Gyani Dyal Singh Ji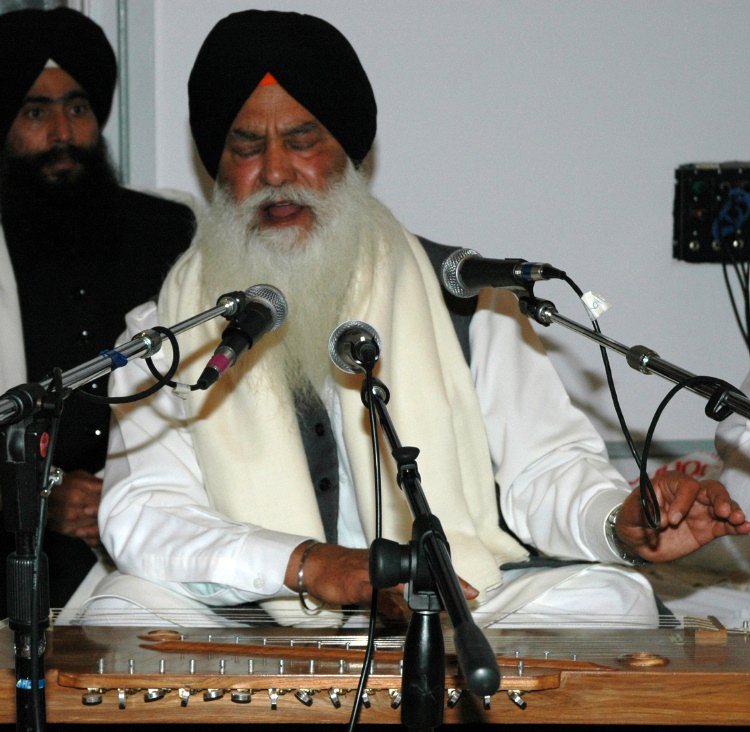 Gyaniji singing at the New Years Program at the Millis Gurdwara Sahib on January 31, 2005
Gyani Dyal Singh is one of the leading figures in the world of Gurmat Sangeet today. He has served as the Principal of the Gurmat Vidyalay at Rakab Ganj in Delhi since 1967. Gyani Dyal Singh was born in the village of Badla Singha in the district of Meerut. In 1946 he came to the Rakab Ganj Gurmat Vidyalay to study Kirtan, Tabla, Sarinda and Dilruba under the tutelage of Gyani Hardit Singh Ji. Gyani Ji spent five years at the Vidyalay as a student. In 1952 he joined the jatha of Bhai Samund Singh, one of the most accomplished Ragis of the century, as his accompanist on the Dilruba. On the recommendation of Bhai Santa Singh Kanwal, he ehtered the service of Bhai Gian Singh Ji, Abbotabad, who was working on his seminal work, Gurbani Sangeet. Gyani Dyal Singh Ji was given the task of annotating ancient shabad reets (compositions) so that they could be documented in Gian Singh Ji's work. From 1959 to 1964 he served at Sri Harmandir Sahib, playing the Dilruba during Asa Di Var recitals as well as in the Sodar Chauki in the evening. In 1965 he worked again with Gian Singh Ji to provide additional input on Raga Theory, Alaaps etc. for Gian Singh Ji's work - Gurbani Sangeet. In 1967, when Gyani Hardit Singh Ji passed away, the task of running the Gurmat Vidyalay passed to Gyani Dyal Singh Ji with the unanimous support of the leading Ragis and scholars who had gathered to bid farewell to Gyani Hardit Singh Ji. Gyani Dyal Singh has served the Vidyalay and the Sikh Panth with exemplary dedication, often at a great cost to his health and well being. The Vidyalay has produced and continues to produce dedicated and talented Ragis who have kept the traditions of Gurmat Sangeet alive. Prominent among his students are Bhai Surjit Singh (Long Island), Bhai Kanwarpal Singh, Bhai Parkash Singh (New Jersey), Bhai Gupal Singh (Boston) and several others. Gyani Ji has also authored four volumes titled Gurmat Sangeet Sagar, which are a veritable treasure trove of compositions in several Ragas. The compositions include ancient shabad reets that have been passed down through generations, Partals, Dhrupads and Guldastas. Gyani Ji has also authored a book on Table instruction titled Table Mridang Sagar, as well an annotated Asa Di Var, set to multiple Ragas. Gyani Dyal Singh Ji continues to live an extremely austere life and teach at the Gurmat Vidyalay in Delhi. Gyani Ji's contributions to Gurmat Sangeet have played a huge role in inspiring the Gurmat Sangeet Project.
A word on the exclusive recordings featured on this page : these recordings were made more than a decade ago in Delhi in an informal session when Gyani Ji was demonstrating some compositions in morning Ragas. The shabads are not complete as they were recorded more as a teaching aid. As an interesting side note, accompanying Gyani Ji on the Tabla is Bhai Angad Singh Ji of Delhi, a well known Ragi who is popularly known as "Reetan De Badshah'. These are an invaluable asset to students of Gurmat Sangeet as all these compositions are available in Gyani Ji's monumental 4 volume work : Gurmat Sangeet Sagar. I am grateful to Bhai Harbhajan Singh, Gyani Ji's student and excellent Tabla player, who provided me with these recordings.
Complete recordings of some of these shabads will be available on the Recordings page, rendered by Bhai Surjit Singh, Bhai Kanwarpal Singh and Bhai Gupal Singh.
Update (January 2006)
The Boston Area Sangat had the pleasure of of hosting Gyani Dyal Singh Ji for about a week in December 2005 and January 2006. During this visit, several special Kirtan Darbars were organized at the Milford and Millis Gurdwaras. Gyani Ji was accompanied by his senior students, Bhai Kanwarpal Singh and Bhai Amrik Singh (on tabla). In addition Bhai Gupal Singh, another of Gyani Ji's students was present. For a special Kirtan Darbar organized on January 7, Bhai Surjit Singh (Long Island), one of Gyani Ji's seniormost students, was also present.
Recordings form these Kirtan Darbars were recently addded to this web-page. In addition the children from the Gurmat Sangeet Project, Boston Chapter, sang several compositions, either composed or documented by Gyani Ji.
Gyani Ji's presence, as expected, inspired his students greatly; Bhai Kanwarpal Singh, in particular sang with rare grace and beauty in both of these programs. He also had the distinction of supporting Gyani Ji when he sang. Bhai Amrik Singh, as always provided stellar tabla accompaniment. Since Shamsher Singh, who usually playes with the Gurmat Sangeet Project Jatha was away on the 31st, Bhai Amrik Singh very kindly agreed to accompany the children as they sang their Partals and Guldastas on the 31st.
Bhai Kanwarpal Singh and Bhai Amrik Singh were here when we were working on the Partals prior to the 31st. Whenever they heard the children practising, they would spontaneously join the session, providing invaluable advice and guidance on Partal Gayki. In particular they greatly helped the children sing the various parts of the Partal at the right speed, which is a critical component of Partal Gayki.
Update (June 2006)
Gyani Ji had promised that he would return in the summer and true to his word he did ! The MIlford Sangat had the pleasure of listening to Gyani Ji's Kirtan the entire month of June, 2006. The shabads listed here are an important record of traditional Gurat Sangeet. The notations can be found in the four volumes of Gurmat Sangeet Sagar, written by Gyani Ji over the years.
Update (June 2006)
In September we worked with Gyani Dyal Singh Ji and the Jatha of Bhai Kanwarpal SIngh Ji to to record and preserve priceless puratan (ancient) compositions. This is just a sneak preview; many more recordings will be added. Thanks to all who contributed.
Shabad

Raga

Kirtaniya

Recordings from a Diwan on July 1 2006 Featuring Dr. George Ruckert
Alap & Gat in Raga Desh by Dr. Ruclert and Aditya Kalyanpur
Desh
Tikh Boojh Gyee Mil Sadh Jana
Kanada
Guru Ramdas Rakho Sarnayi
Narayani
Mere Lalan Ki Sobha
Gorakh Kalyan
Sajana Sant Avoh Mere
Durga
Meri Preet Gobind Sion Jin Ghate
Pahadi
Anand Sahib
Heritage Recordings
Nahin Chodu Re Baba Ram Nam
Bihag
Rama Ram Ramai Ant Na Paya
Kalyan
Mate Matang Jare Jur Sang
Malkauns
Har Sukh Data Mere Man Jaap
Bhairav
Dheero Dekh Tumhare Ranga
Bilaval
Bhuli Malni Hai Eeo
Asa
June 2006 Recordings
ab mohe jivan padvee pai

aise hoye pari

Brindabani Sarang
aisi lal tudh b in koun kare

bandhna har bandhna

Dhanasri
bisar gyi sabh tat parayi

bisrat nahi man te hari

Kedara
ik nirbhau baat sunee

Marubihag
jag leo re mana

japyo jin arjan dev guru

khub khub khub

Ahir Bhairav
koi bole ram ram

mangna mangan nika

meri abe benti sun lejai kaoun tumare aye rajan

nam paryo ramdas

prabh ju toke laj hamari

Sorath
rachna ram banayi sadho

rain dinas parbhat tuhe he gavna

Sorath
ram simar ram simar

Jaijawanti
rasna ram ram bakhan

Kedara
sun yar hamare sajjan karo benantiya
Bhairavi, Bilaskhani Todi, Bhupal Todi, Lachari Todi
Special Kirtan Darbar at Milford on January 7
Rajan ke raja maharajan ke maharaja
Darbari Kanada
Gyani Dyal Singh Ji
Jai jai jag karan
Gyani Dyal Singh Ji
Bhalo samo simran ki bariya
Jog
Bhai Surjit Singh
Mere ghar aavoh
Puriya Dhanasri
Bhai Surjit Singh
Dhyan dharo teh ko man me
Abhogi Kanada
Bhai Surjit Singh
Bin kartar na kirtan mano
Yaman Kalyan
Bhai Kanwarpal Singh
Hou dhadhi har parbh khasam ka
Sri
Bhai Kanwarpal Singh
Hou var var jaou gur gopal
Nat
Bhai Kanwarpal Singh
Rain dinas parbhat tuhe hi gavna
Sorath
Bhai Kanwarpal Singh
Gur ke charan ji ka nistara
Yaman Kalyan
Bhai Gupal Singh
Chatar chakra varti chatar chakra bhugte
Malkauns
Bhai Gupal Singh
Kahun devtan ke
Multani (Partal)
Bhai Gupal Singh
Bhavni bhagat bhae
Bhupali
Bhai Gupal Singh
Ghol ghumai lalna
Tukhari
Amrit & Mehr Kaur
Sadh sangat mil har ko nam
Bageshri
Simran and Vijayant Singh
Thakur tum sarnai aya
Malkauns
Gurleen and Simran Kaur
Anand rang binod hamare
Nayki Kanada
Avneet and Baljot Kaur
Jachak nam jache jache
Bhupali
Sukhvir and Rajvir Kaur
Special Kirtan Darbar at Millis on December 31 2005
Anand Rang Binod Hamare
Nayki Kanada
Gyani Dyal Singh Ji
Mith bolra ji har sajan swami mora
Sorath (?)
Gyani Dyal Singh Ji
Charan kamal sang lagi dori
Nat
Bhai Kanwarpal Singh
Ham dhadhi har prabh khasam ke
Sorath
Bhai Kanwarpal Singh
He sansar tap harne
Adana
Bhai Kanwarpal Singh
Kaun bidh ta ki kaha karu
Yaman Kalyan
Bhai Gupal Singh
Mate matang jare jur sang
Malkauns
Bhai Gupal Singh
Ram bhaj ram bhaj (Guldasta)
Jaijawanti
Amrit & Mehr Kaur
Ham ghar sajan aye (Partal)
Bhairavi
Simran and Vijayant Singh
Halat sukh palat sukh (Partal)
Dhanasri
Gurleen and Simran Kaur
Anand rang binod hamare
Nayki Kanada
Avneet and Baljot Kaur
Please note that the notations for the following shabads are available in Gurmat Sangeet Sagar, Volume 1 by Gyani Dyal Singh Ji. Coupled with this book, these recordings are an excellent learning tool.
Aaj more aaye hain
Jaunpuri
Tintaal
Aise hoye pari
Brindabani Sarang
Iktaal
Aiso koun bali re
Asa
Chotti Tintaal
Bolo bhaiya ram nam
Bilaval
Partaal (Iktaal, Rupak, Soolfak, Tintaal, Soolfak)
Chandan ka birva bhalaa
Asa
Tintaal
Das tere ki benti
Bilaval
Deepchandi
Dhiro dekh tumhare ranga
Bilaval
Iktaal
Ek achambav dekho bhai
Asa
Soolfak
Har aradh na janya
Asa
Keherva
Har bin koun sahai man ka
Brindabani Sarang
Dadra
Har gun gaye mera man sitalaya
Bhairavi
Keherva
Har ka bilvna bilovo mere bhai
Asavari
Jhaptaal
Jithe jaiye bahiye bhalaa kahiye
Asavari
Dadra
Kavan bani ri teri lali
Asa
Deepchandi
Kavan bani ri teri lali (bhairavi)
Bhairavi
Soolfak
Kyon jivan pritam bin mai
Brindabani Sarang
Tintaal
Man bairag bhaya darsan dekhan ka chou
Sindhi Bhairavi
Deepchandi
Mohan ghar aavoh karo jodadiya
Brindabani Sarang
Tintaal
Moko tu na bisar ramiya
Bhairavi
Tintaal
Nam bhagat mango sant
Brindabani Sarang
Dadra
Nam pariyo ramdas
Asa
Chotti Tintal
Oha prem piri
Asa
Iktaal
Prabh tere pag ki dhur
Asavari
Tintal
Raj lila tere nam banai
Asavari
Deepchandi
Ram naam saar kal me
Asa
Iktaal
Tu thakur tum pai ardas
Bhairavi
Tintaal
Vidya vichari ta parupkari
Asavari
Tintal
Subh bachan bol gun amol
Brindabani Sarang
Partal (Chartaal, Iktaal, Rupak, Tintaal, Soolfak)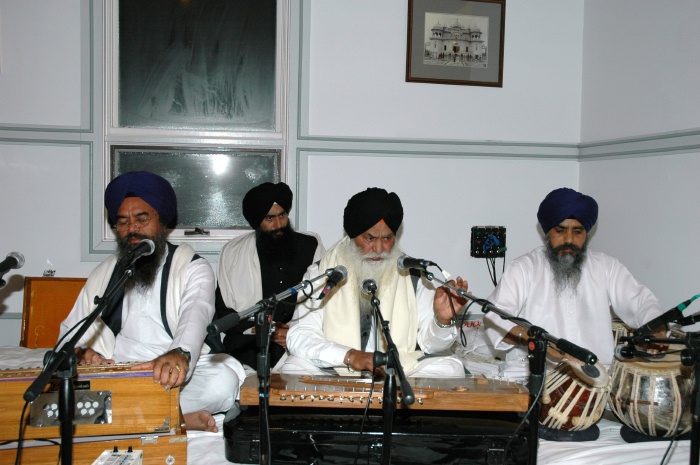 Gyani Ji and his students at Millis; December 31 2005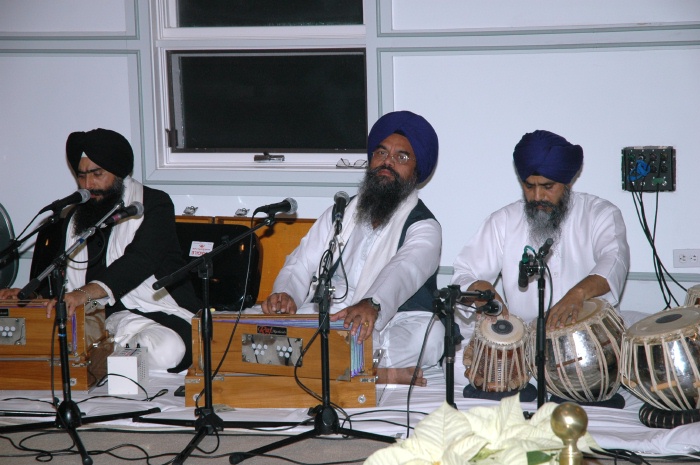 Bhai Kanwarpal Singh and his Jatha at Millis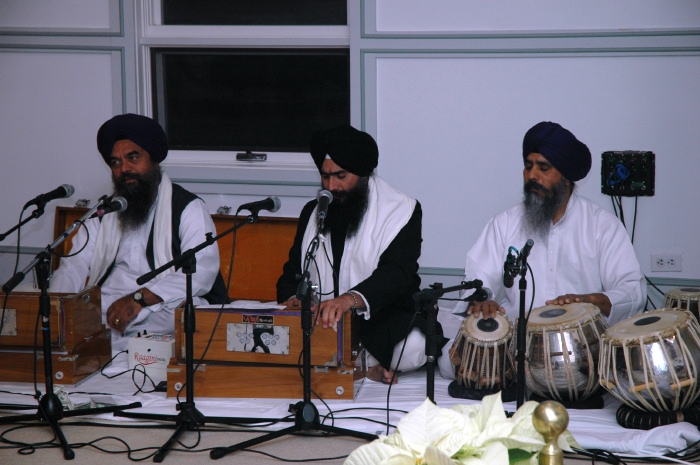 Bhai Gupal Singh at Millis
Mehr and Amrit at Millis

Simran and Vijayant at Millis

Baljot and Avneet at Millis

Practice session !